Renting a car in Faroe Islands.
The Faroe Islands are a cluster of 18 rugged islands in the North Atlantic Ocean, known for their dramatic landscapes, wild weather, and friendly locals. With so much to explore on these remote islands, renting a car is a must for any visitor. And if you're looking for the best car rental service in the Faroe Islands, look no further than Rent.fo.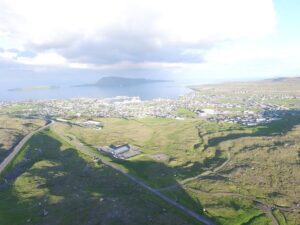 With Rent.fo, you can rent a car that is perfect for your needs, whether you're traveling solo, with a partner, or in a group. They have a variety of vehicles to choose from, including compact cars, mid-size cars, and SUVs. If you're looking for something with more space or more power, they also offer vans and 4x4s. Whatever your needs may be, Rent.fo has got you covered.
One of the best things about renting a car with Rent.fo is their convenient online booking system. You can easily reserve your car online in just a few minutes, so you can be sure to have transportation waiting for you as soon as you arrive on the islands. Plus, with their easy-to-use website, you can compare rates and features of different vehicles to find the perfect fit for your trip.
Rent a car Faroe Islands
When you rent a car with Rent.fo, you'll also enjoy the freedom to explore the islands at your own pace. Instead of being tied to a group tour, you can chart your own course and see the sights that interest you most. From the towering cliffs and sea stacks of Vestmanna to the charming villages of Gjogv and Saksun, the Faroe Islands are full of hidden treasures waiting to be discovered.
Of course, safety is a top priority when it comes to renting a car, and Rent.fo takes that seriously. All their vehicles are well-maintained and regularly serviced, so you can feel confident behind the wheel. In addition, their staff is always available to answer any questions or concerns you may have during your rental period.
Another great feature of renting a car with Rent.fo is their flexible rental periods. Whether you're planning a short weekend trip or a longer stay, you can rent a car for as little as one day or as long as several weeks. And if your plans change, they offer free cancellations up to 48 hours before your rental period begins.
Renting a car with Rent.fo is also a cost-effective way to explore the Faroe Islands. Instead of paying for expensive tours or relying on public transportation, you can save money by driving yourself. Plus, with their competitive rates and special deals, you can get even more value for your money.
If you're worried about navigating the narrow and winding roads of the Faroe Islands, don't be. Rent.fo provides free maps and GPS systems with every rental, so you can find your way around with ease. Plus, their staff is happy to offer recommendations and insider tips on the best places to visit on the islands.
Car rental Faroe Islands
Overall, renting a car with Rent.fo is the best way to experience the beauty and wonder of the Faroe Islands. With their convenient online booking system, flexible rental periods, and competitive rates, you won't find a better car rental service in the Faroe Islands. So why wait? Book your rental car with Rent.fo today and get ready to embark on an unforgettable adventure in the Faroe Islands!