Visit Tórshavn.
Why Renting a Car from Rent.fo is the Best Way to Explore Tórshavn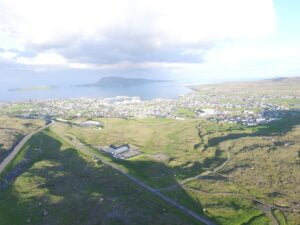 Are you planning a trip to Tórshavn, the charming capital of the Faroe Islands? If so, renting a car from Rent.fo is the best way to explore this stunning region. With a rental car, you'll have the freedom to explore at your own pace, without worrying about public transportation or tour schedules.
Rent.fo offers a wide range of rental cars to suit your needs, from compact cars to spacious SUVs and vans. All their vehicles are well-maintained and come with insurance and roadside assistance, giving you peace of mind during your travels.
Must-See Sights in Tórshavn and the Surrounding Area
Once you have your rental car, it's time to start exploring the must-see sights in Tórshavn and the surrounding area. Here are some top destinations to add to your itinerary:
Kirkjubøur: Just a short drive from Tórshavn, this picturesque village is home to the ruins of a medieval cathedral and the oldest still-inhabited wooden house in Europe.
Saksun: This charming village, nestled in a picturesque valley, is a great place to go for a scenic hike or to visit the stunning tidal lagoon.
Gásadalur: This remote village, located on the west side of Vágar Island, is home to the famous Múlafossur waterfall and offers breathtaking views of the ocean and surrounding landscape.
Streymoy Island: This is the largest of the Faroe Islands and offers a wealth of natural wonders to explore, from stunning cliffs to hidden beaches.
Tips for Driving in Tórshavn with a Rental Car from Rent.fo
Driving in Tórshavn and the Faroe Islands can be an adventure in itself, with narrow and winding roads that offer stunning views of the rugged coastline and surrounding landscapes. Here are some tips to keep in mind when driving with your rental car from Rent.fo:
Take your time and drive with caution, especially on narrow roads and steep inclines.
Always wear your seatbelt and follow all traffic laws.
Be prepared for changing weather conditions and sudden changes in visibility.
Keep an eye out for sheep and other livestock that may be on the road.
Overall, renting a car from Rent.fo is the perfect way to explore Tórshavn and the surrounding areas. With their convenient and reliable rental options, you'll have the freedom to create your own itinerary and make unforgettable memories during your visit to this beautiful region.